Using E-Sword to Study the Bible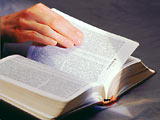 How to study the Bible, how to use free E-Sword Bible Study software to research the Bible, principles of in-depth bible study (exegesis) and of creative bible study.

You will need to download the free E-Sword Bible Study Software
The free text is the Harvestime module: Creative Bible Study Methods.
You will also need to study the various E-Sword tutorials

The excellent supplementary textbook "How To Read The Bible For All It Is Worth" by Douglas and Fee is strongly recommended and can be purchased from the AIBI bookstore.
1. Download and read the ebook above - it is the free etext for the course.
2. Also download the E-Sword software and tutorials and learn how to use this powerful free program and all its add-ons. Especially see the Tutorial Manual (currently listed at the bottom of the E-Sword Training web page)
3. Next , discuss the principles of Creative Bible Study and the questions it raises in your class, and/or the forums.
4. Then write and reflect - in your personal journals.
5. Finally - do the assignment which is to do three of the following four studies, each study should be about one page long and the total assignment should be about 1500 words (3 pages):
a) Do a word study on the various uses of the word 'spirit' in the New Testament.
b) Do a topic study on "encouragement"
c) Do a chapter study on Mark chapter 7
d) Do a verse study on Romans 5:8
Term papers should be scripturally based and demonstrate knowledge, understanding and application of the course material.
Term papers should be done in MS-Word or similar format (Wordperfect, RTF , PDF)
You may find the free E-Sword Bible Study Software helpful in this research project.
Please hand the finished assignment to your pastor or study supervisor who will mark it and then send the result to us.