Hermeneutics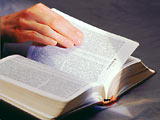 Hermeneutics is the study of how to understand and interpret the various kinds of literature in Bible and then apply it accurately to our current situation.
Objective:  By the end of the course the student will be able to understand the different literary genres in the Bible and how to read and apply them in an accurate and relevant manner.

Textbook:  How To Read The Bible For All Its Worth by Douglas and Fee, it is absolutely essential for this class since all the teaching and exercises are based on it. It is very affordable and you will be able to buy it at most Christian bookstores or at christianbooks.com or Amazon.com
Procedure: Read a chapter from Douglas & Fee each week then do the accompanying exercise sheet (download ebook at left). Feel free to email me with any questions or concerns that you may have (see email link below).
Time Required: If you read a chapter of the textbook plus complete one exercise sheet that should take you about three to four hours each week for eleven weeks. The final exam will take around two to three hours extra however you can do it at your own pace.
Assessment:  A 60 question, open book, take home exam click here to download exam (doc file so you can edit it and insert your answers). There is no time limit and you are free to consult the textbook along the way. Once you have completed the exam you can email the completed test to me, please put your name both on the paper itself and in the file name e.g. Bob_Smith_Hermeneutics_Exam