EQ is emotional intelligence, just like IQ is analytical intelligence. Emotional intelligence involves: emotional identification, perception and expression; emotional facilitation of thought; emotional understanding; and emotional management .

A Harvard Business School study found that up to 85% of an executive's success was due to EQ skills and only 15% to IQ.

EQ skills are needed by all pastors, missionaries and Christian workers-which is why Biblical EQ was written. They are also a tremendous help in the Christian life.

WHAT IS BIBLICAL EQ?
Biblical EQ seeks a biblical understanding of our emotions and is based on what the Scriptures tell us about the emotional life of Jesus Christ. It believes Christ redeemed our emotions and that we can have Christ-like emotions. Biblical EQ draws on both secular and Christian insights and uses the life and ministry of Jesus as the model. and the integrating point.

Biblical EQ takes the position that born-again believers have a huge advantage in the indwelling power of the Holy Spirit who is God and who has a plan to make us like Jesus. When Christians cooperate with God's work in their lives then amazing personal changes can occur. Biblical EQ will give you the information and the tools you need to cooperate with God in your own emotional transformation.

Purchase Biblical EQ (via Amazon)
Biblical EQ is now available as a 262 page high-quality ppaperback. Just click on this link or on the image below to be taken to the Biblical EQ page on Amazon.com where you can view the book, read reviews and of course purchase some copies.

WHAT YOU CAN EXPECT
A Biblical EQ seminar is a very full weekend of teaching, discussion and exercises that gives you a solid biblical paradigm for emotional transformation. You will learn about how your perceptions, beliefs, emotions, reactions and social skills can be redeemed and transformed into those of Jesus Christ through the power of the Holy Spirit.

There are ten sessions and they build upon each other . It is especially important that you attend the first three sessions. The sessions consist of lecture input followed by questions from the audience and some practical exercises.

Your privacy will be respected and you will not be asked to share personal information, or to join any particular religious group. The details on the sign-up form will not be passed on to third parties or used for marketing purposes.
You can expect to gain many deep insights about God, yourself, your emotions and the Christian life.

Biblical EQ also contains many helpful techniques for managing emotions and for living the Christian life according to the will of God.

Biblical EQ will also help with burnout and stress management-especially for those engaged in Christian ministry. Pastors and other Christian workers may also find Biblical EQ of great practical use in helping their parishioners.

Please note that Biblical EQ is not clinical therapy, or counselling, it is bible teaching and pastoral care and is presented from a evangelical/charismatic perspective.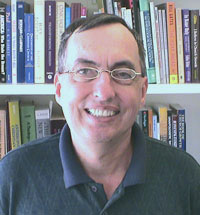 Rev. John Edmiston B.Sc. B.D.
Ten sessions of 90 minutes each - generally run over a weekend.
Cost of $55 per head includes all materials including the textbook and data CD. Travel and accommodation costs for John Edmiston not included.
Churches may charge up to $30 per head extra to cover their expenses in providing the seminar.
Click on the link below for details:
How To Organize An AIBI Seminar In Your Church
Here is a brochure in Microsoft Publisher format that you can adapt for your location.
Send checks to:
AIBI-International
514 E. Desford St.
Carson, CA USA 90745
Or use our online payment mechanism at:
http://www.aibi.ph/articles/donate.htm
---
John Edmiston B.Sc. B.D. is an Australian bible-teacher and is the President of the Asian Internet Bible Institute. John has been a missionary in Papua New Guinea and the Philippines and he wrote Biblical EQ to help missionaries cope with their emotions on the mission field. John now lives in Los Angeles and is married to Minda, who is a botanist.
---
Download The Ebook
Obtain Biblical EQ as an ebook. Free download click here
Seminar Topics
Jesus And Our Emotions
The Role Of The Holy Spirit
Great Saints vs. Carnal Christians.
Correcting Our Perceptions
The Thoughts And Intents Of The Heart
The Learning Organization
Emotions And Our Physiology
The Masterful Mind
Naming And Evaluating Emotions
Christian Social Skills
SEMINAR CONTENT
The first three sessions look at the emotions of Jesus, the emotions of Christians and the power of the Holy Spirit. These sessions lay the groundwork for the rest and are essential.
Sessions four and five look at our inner life, - the world of the spirit and soul, perceptions, beliefs and thoughts. Session six looks at how Christian community helps our emotional development.
Session seven looks at how our body and soul interact and how this affects our emotions. Session eight demonstrates how the masterful mind is the key to true emotional management and gives many practical tips on doing so. Sessions nine and ten show us how we can name, evaluate and express emotions-wisely and appropriately.
Each session is about an hour and a half long, Discussion is encouraged and practical exercises are included.