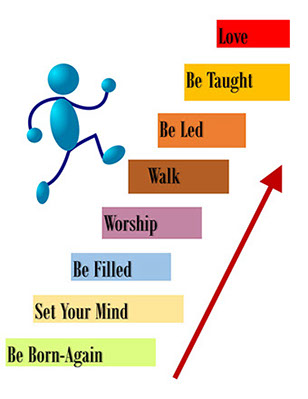 The Spiritual Continuum is a free 8-lesson discipleship series for young adults aged 18-35 (preferably with a mentor). There is a PDF workbook and eight audio MP3 files (about 15-20 minutes long each) . Use the audio in conjunction with the workbook during the bible study.
It looks at discipleship as cooperating with the Holy Spirit and teaches 8 steps in the Christian life, steps that flow naturally into each other.
About The Workbook (56 pages)
A slightly larger font is employed so that it will be easy to read on mobile devices or in less than perfect lighting.
There are wide margins so that the pages may be put in a ring binder and given out to students.
There is some space at the bottom of each page so that students can make their own notes as they go along.
There are study and discussion questions and practical exercises and "how to" material so that students can put the teachings into practice.
There is a Teacher and Facilitators Guide.
You may freely print it out for study purposes in small groups, conferences and classroom situations.
Download As A Free AudioBook ( MP3 Format 111MB)
Or Each Chapter As A Separate MP3 Download
1. Be born again / born of the Spirit. MP3
2. Set your mind on the things of the Spirit in a decisive way. MP3
3. Be filled with the Spirit and with the Word and receive the baptism in the Holy Spirit MP3
4. Worship in the Spirit, with psalms, hymns, spiritual songs and a heavenly language. MP3
5. Walk in the Spirit; and you will not be able to fulfill the lusts of the flesh. MP3
6. Be led by the Spirit into the will of God and into the adventures of faith MP3
7. Be taught of the Spirit whenever you encounter troubles, difficulties and crises of faith. MP3
8. Love in the Spirit and thus fulfill the law of Christ and all the commandments. MP3
FREE EMAIL COURSE: You can also get The Spiritual Continuum as a free course in your email inbox. Just sign up below. We promise that we will not give your email address to others or use it for spam.
ABOUT THE AUTHOR: John Edmiston B.Sc. B.D. is the CEO of Cybermissions and is an Australian who lives in Los Angeles with his wife Minda.
CONTACT: To contact the author, John Edmiston just email him