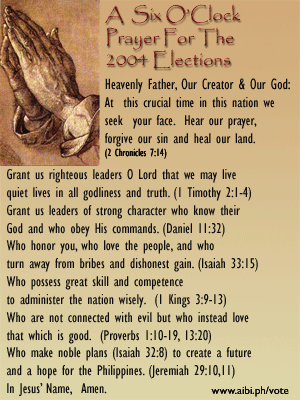 A Six O'Clock Prayer - (For The 2004 Elections)
2 Chronicles 7:14
(14) if My people, who are called by My name, shall humble themselves and pray, and seek My face, and turn from their wicked ways, then I will hear from Heaven and will forgive their sin and will heal their land.
God wants to heal the Philippines from its sin, its corruption, its waywardness and from the suffering that has come upon it!
Prayer is the price of revival and we must pray! In fact prayer for the nation is a top priority !
1 Timothy 2:1-4
(1) First of all, then, I exhort that supplications, prayers, intercessions, and giving of thanks be made for all men,
(2) for kings and all who are in authority, so that we may lead a quiet and peaceable life in all godliness and reverence.
(3) For this is good and acceptable in the sight of God our Savior,
(4) who will have all men to be saved and to come to the knowledge of the truth.
A group of us are praying for the 2004 elections, at 6 pm each day - wherever we are (even in taxis).We are using the prayer above as a common, biblically-based starting point in our prayers.
There is nothing magical about it - it is just a helpful tool, and you can pass it on to others who may be interested. It uses the 4C system when praying for leaders - character, competence, connections, content. It also adds a "fifth C" - Christ!
Get a group of friends to pray regularly for the election, and for "kings and all those in authority" in the run-up to the May 2004 elections. Pray for good leaders and wise voters who are given discernment by God. See our Vote Wisely page for objective voting guidelines and a free poster.
You can download the above prayer card as a Word file (1.3 MB) or a PDF file (241 KB) with four prayer cards on each letter sized (short) page (for yourself and three friends).
Pass it on!
Blessings,
John Edmiston

Contact John Edmiston